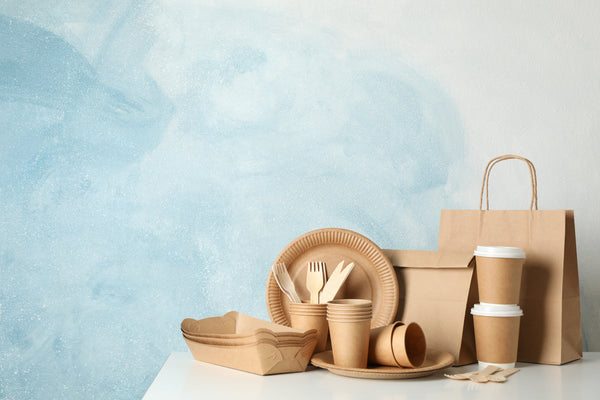 How sustainable packaging is saving the planet
Packaging requirements have boomed during the pandemic, as customers bought more products online and ordered takeout deliveries. Disposable packaging is one of the most wasteful elements in society today, but thankfully there is increased environmental consumer awareness in the UAE. At Sineo, we felt the responsibility to champion sustainable packaging and play our part in saving the planet.
The UAE has outlined a strong set of Sustainability Development Goals (SDG's) which include reducing our carbon footprint and adopting more sustainable technologies. Switching to biodegradable and compostable packaging solutions is key to reducing waste. At Sineo, we believe that we are an important part of the drive to reduce waste, so we offer earth-friendly packaging alternatives which are both high-quality and durable. 
So, how do we do this?
Planet-loving packaging solutions
Creating plant-based packaging as an alternative to plastic containers is key to our philosophy. Every time we produce new packaging our primary concern is sustainability. If it isn't recyclable, it's not ours.
Here are the planet-friendly materials we use and why:
Kraft
Let's take a look at how we produce our eCommerce packaging first; when we are designing mailer boxes for eCommerce, we need to consider durability for shipping, flexibility to flat pack in warehouses, and design aesthetics that reflect the great brands we work with. Our perfect protectors are rigid and secure because we craft them using natural kraft corrugated material which is 100% recyclable and compostable. Kraft is created via a process that converts wood material into pulp. It is easy to print on, with mono or full-colour options, and is available in several finishes. It's cost-effective for large shipment orders, but we also manage small minimums which can help start-ups too. 
Polylactic Acid or PLA (made from corn starch)
Polylactic Acid (PLA) is a biodegradable and compostable bioplastic derived from renewable resources such as corn starch. It is certified compostable and takes around 90 days to biodegrade at a composting facility. When we create takeaway packaging, we consider both how sturdy our products are and how recyclable. Being the planet-friendly people we are, we designed a 100% compostable custom coffee cup! Using kraft paper lined with PLA, it looks like a regular cup, but is fully digestible by nature. It comes with an optional coffee cup lid to match that is made with CPLA, which is entirely compostable too. PLA is perfect for printed packaging, so you can brand it with your bean and let your customers enjoy guilt-free slurps!
Bagasse (made from sugar cane)
Bagasse is the fibre that remains once sugar cane is treated for its juice. This dry, fibrous material makes for superb protective packaging and we use it for containers, clamshells, and more. It can be used in its original state or naturally bleached to make it white. The great thing about bagasse is that it's 100% compostable (takes 45-60 days to fully biodegrade). We love our fast-food containers with an eco-friendly face!
Plant Starch (PSM)
We want to offer compostable cutlery at its best, so we use a unique blend of plant starch and PP material. Our biodegradable cutlery has the same physical properties as plastic and is just as sturdy. PSM is created using 70% renewable plant starch and 30% plastic. Although not fully compostable, it remains a more sustainable alternative to petroleum-based products. 
Birch Wood
For our eco-conscious clients, we also produce wooden cutlery, crafted entirely from birch wood. Our earth-friendly cutlery sets are 100% compostable and are suitable for hot and cold use. They can be customized, allowing your brand to shine. 
Polyethene (PE)
Although not compostable, PE can be recycled with other plastic materials. We sometimes use it to coat kraft items such as coffee cups and boxes. It makes the packaging greaseproof, waterproof, and heat resistant.
At Sineo, we spearhead sustainability, ensuring we use certified compostable products to create innovative packaging solutions. We measure our packaging's carbon footprint because we care about our contribution to the future of the planet. Come join the natural revolution and use sustainable packaging today. Please contact our earth-loving team to discuss your company's packaging requirements.